The RCG delivers mobile coverage to the Bay of Plenty's TECT Park
Long awaited mobile broadband coverage has now been switched on at the popular TECT Park in the Western Bay of Plenty. The move ensures that the more than 30,000 visitors, thrill seekers and outdoor adventurers can rely on seamless connectivity across the 1650 hectares of all terrain park./p>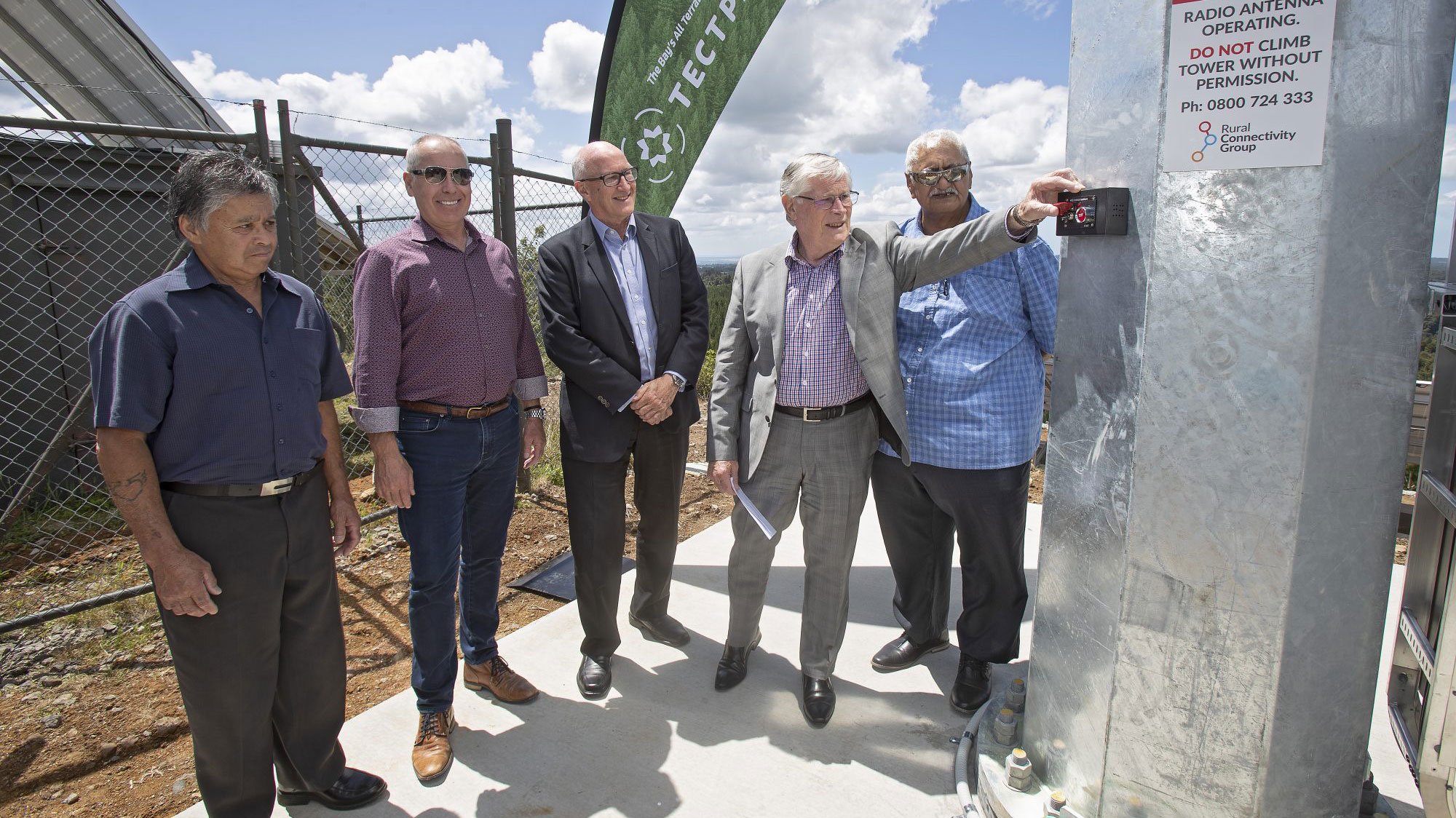 The Rural Connectivity Group (RCG) was there for a special reception early December to mark the switching on of the park's first mobile facility built under the RBI2 initiative (pictured).
RCG Head of Communications and Engagement, Caitlin Metz joined Western Bay District and Tauranga City mayors, Garry Webber and Tenby Powell, TECT Chairperson Bill Holland, Deputy Chairperson Natalie Bridges and TECT Trustee Peter Blackwell, Ngai Tamarāwaho kaumatua Des Tata and Sonny Ranapia, and Park Manager Bill Wheeler for the occasion.
Western Bay Mayor Garry Webber says the facility is the coming of age for TECT Park.
"Until now, lack of telecommunications has been a risk factor to users' safety and has also been a barrier to commercial development at the park and hindered our ability to promote the park to its full potential as a tourist and visitor attraction," says Garry.
"From its inception, one of the Park's core values has been 'create' and, with the development of basic infrastructure such as telecommunications, roading and power, the two councils are providing users with the tools to create their own dream playground at TECT Park.
"Our thanks go to the Rural Connectivity Group for being faithful to its mandate under the RBI2/MBSF programme to provide mobile and wireless broadband services to the TECT Park and surrounding neighbours."
The RCG's Caitlin Metz says the team had enjoyed working with the two councils, TECT Park management and Base Power to bring this much needed facility to the park.
"It has been a shared goal and successful collaboration. The services provided by Spark, Vodafone and 2degrees will provide safety and convenience for the 30,000 plus visitors to the park. Mobile operators have tried for a decade to bring services to the area and it is the success of the RBI2 and MBSF programmes that have ensured coverage has finally been delivered," says Caitlin.
Cell phone reception will also be welcomed by the wider community between Oropi and Ngawaro which, until now, have put up with no coverage.
TECT Park and the Adrenalin Forest Adventure Experience received a mobile facility from Government's Mobile Black Spots Fund Programme (MBSF).