Thursday 11 June 2020
RCG liven 100 Sites Live
RCG liven 100 sites during Covid-19 keeping rural New Zealanders connected.
On Thursday 11 June 2020 the Honourable Kris Faafoi, Broadcasting, Communications and Digital Media Minister marked RCG's 100th site live during a ribbon cutting event in Gebbies Valley, Christchurch.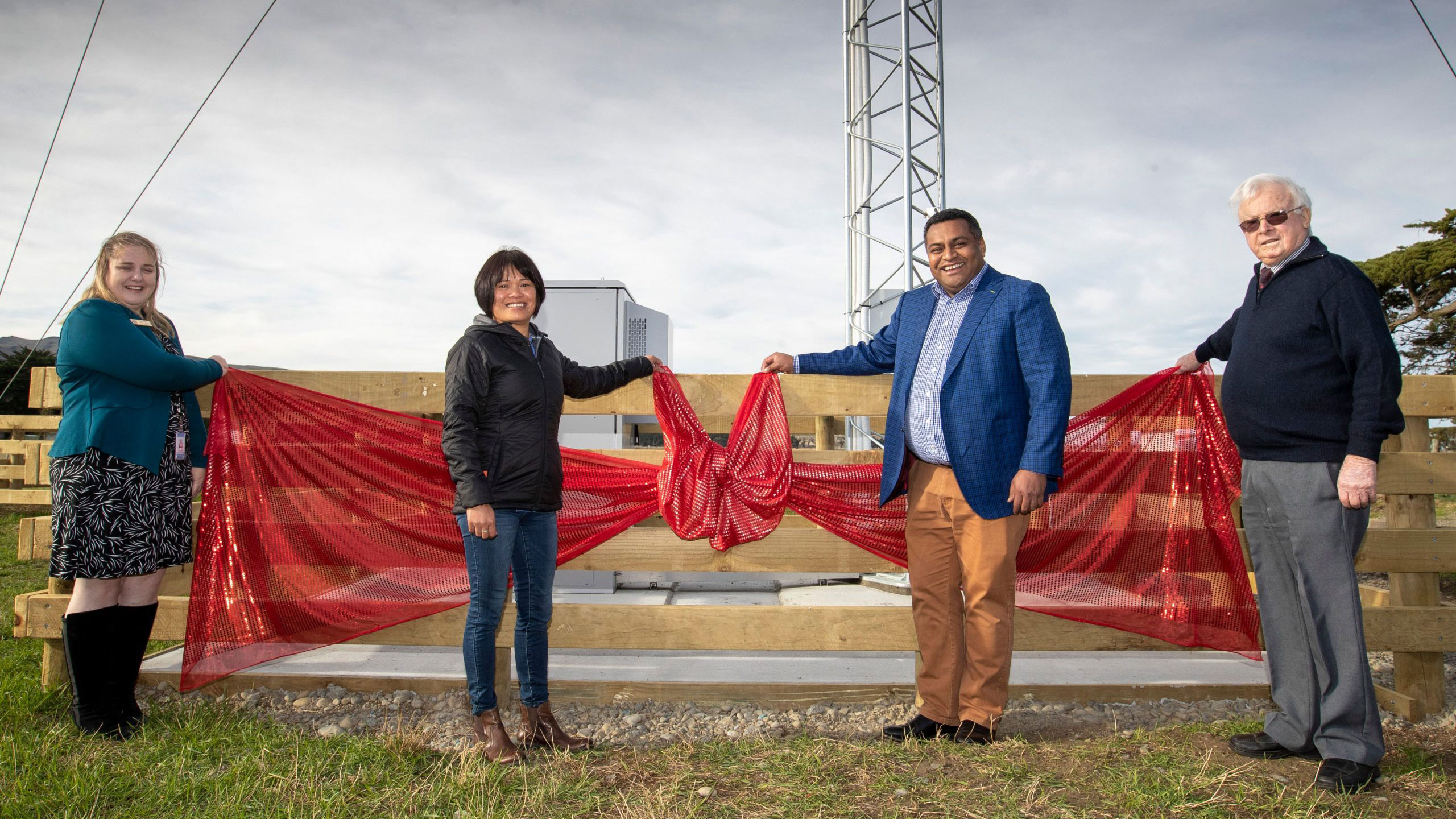 The 100th site on air under the Rural Broadband Initiative (RBI2) and Mobile Black Spot Fund (MBSF) programmes means that a further 8000 households and businesses and over 300km of State Highway previously with poor or no network connectivity, will have access to high-speed wireless broadband and quality mobile coverage, from Spark, Vodafone and 2degrees.
The living of the Gebbies valley sites takes the total number of operational RCG sites in the Canterbury region to eight, in an effort to keep rural New Zealanders connected as they worked and schooled from home during Covid lockdown.
With the livening of these eight sites in Cass, Eyrewell, The Pines Beach, Bealey, Ashburton East, Birdlings Flat, Albury and Gebbies Valley and another three sites planned to go live imminently, a further one thousand Cantabrian homes and businesses and over 55kms of state highway,
"At the time of the lockdown we had a number of sites around New Zealand close to completion which we had to secure and leave. As an Essential Service our team has been focused on getting built sites 'on air' to provide immediate service to as many rural communities as possible." says RCG Chief Executive John Proctor. "Our team has worked in extraordinary circumstances but the importance of new coverage to isolated rural communities cannot be underestimated. Livening sites makes a huge difference to the daily lives of locals and is why it's more important than ever we've worked hard to complete sites during lockdown."
The challenges presented by a national state of emergency and subsequent levels of lockdown has meant that in addition to the already strict Health & Safety protocols followed by the RCG, controlled and meticulous Covid-19 procedures to access and work on sites needed to be implemented, including ensuring Police permits were obtained for the RCG staff movements.
Mr. Proctor says "These remain unprecedented times. We're working together with our shareholders, build partners, power companies and landowners with one goal – to build and liven sites and keep everyone safe whilst doing so. I can't thank everyone enough for their contribution; it's been a huge team effort and we're proud to be providing coverage when it is most needed."
Today Tori Peden, Banks Peninsula Community Board Chair made one of the first calls from her phone using the new service.
" Being able to make one of the first calls using service from this site has been fantastic. Giving our rural communities and emergency services access to reliable high-speed broadband and mobile service is essential and means that the southern side of State Highway 75 no longer has a black spot for coverage. Thanks, from all of us, goes to the RCG and to central government for getting this programme into our community" said Ms Peden.
The new RCG sites are the result of an industry leading collaboration between the three mobile network operators and Crown Infrastructure Partners (CIP) and aims to build over 450 cell sites across rural New Zealand delivering essential broadband and mobile services. The RCG is a joint venture between Spark, Vodafone and 2degrees, and has been contracted by CIP to deliver the government's Rural Broadband Initiative Phase 2 and Mobile Black Spots Fund programmes. The RCG is responsible for building, operating, and maintaining this essential rural network infrastructure.
Spark Technology Director and RCG Board Member, Mark Beder said Spark was pleased to be part of a solution that is helping to bridge the digital divide for rural communities, at a time when connectivity is more important than ever before.
"Lockdown has shone a light on how important connectivity is for all New Zealanders. Building critical infrastructure in our rugged rural terrain is no easy task, and even more challenging during a pandemic and various stages of lockdown – but RCG responded and continued connecting rural communities when they really needed it."
Tony Baird, Wholesale and Infrastructure Director at Vodafone New Zealand and RCG Board member says, "Switching on 100 cell sites is an awesome achievement, and we're pleased to help connect even more rural New Zealanders to digital services as part of our commitment to levelling the urban-rural playing field. Connectivity is more important than ever now, and we've seen massive increases in internet usage as people work and learn from home. I'm proud of the collective mahi from the industry during lockdown."
2degrees Chief Commercial Officer and RCG Board Chair, Paul Mathewson, offered his congratulations to the wider RCG team: "It's fantastic to have reached this milestone – especially through such challenging times and when staying connected to the people who matter most, has never been so important"
The mobile sites are running on the latest 4G technology and services are now available to customers of Spark, Vodafone or 2degrees. Customers may need to upgrade their phone settings to enable 4G voice calling. Information is available on the websites for each company and anyone unsure if their device is capable of receiving and making calls over the 4G network should contact their service provider.